Nick Jonas has shown time and time again that he will take his music career to the next level whenever he can. The 28-year-old "Levels" singer has successfully branched into acting, is a member of the Jonas Brothers band (reformed in 2019) and married one of India's most famous actresses and entertainers, Priyanka Chopra. (Married in 2018).
The "Chains" singer has showed incredible creative talents, with his latest album "Spaceman" literally taking place on what appears to be an alien planet.
Long Hair & A Long Beard?
Instagram @Nick Jonas
Although his out-of-this-world adventures are certainly the highlight of his career right now, it would seem that he hasn't lost touch with his funny side, especially in light of his last Instagram post.
The post in question shows him with a longer beard that he is usually seen with, and a hairstyle that is absolutely ridiculous on him. He caption the post telling his followers to caption the pictures. Naturally, his fans didn't disappoint, with most creating hilarious messages about how he looks.
'When I Do'
Instagram @Nick Jonas
Here are just some of the comments that he received on his post, many of which try to create what Nick might have included in the caption of the post:
""I DONT ALWAYS WEAR A HEADBAND, BUT WHEN I DO IT TOTZ ADORBZ."" (Commentator) "I would like to unsee this" (Commentator) "Cobra Kai 🐍" (Commentator) "That hairline I can't 😂" (Commentator) "when you don't have to wear a mask anymore but you don't want people to recognize you" (Commentator) "been in quarantine a bit to long 😂😂😂" (Commentator) "Mom pick me up I'm scared" (Commentator) "Your chakras are NOT aligned" (Commentator)
'As Many As I Can Have'
Instagram @Nick Jonas
Nick has gushed over his wife quite a number of times during interviews and in social media posts. He told the press earlier this year that he and Priyanka are pretty much on the same page when it comes to having children. Nick shared that he wants "many" children and Priyanka shared that she wants to have as many as possible!
"I do want children, as many as I can have," Priyanka shared with The Sunday Times.
Nick also shared that he and his lovely wife are getting ready to celebrate their anniversary!
'No-Brainer'
Instagram @Nick Jonas
Nick told Zane Lowe (Apple Music podcast) in an interview that he is so grateful to have a wife who he could trust in and have good communication with.
"And so that was a major factor. And then also once we really gave it a real shot it was a no-brainer. It was just like, oh," the "Spaceman" singer continued. "I have said this before, but I describe it as there just being an unimaginable peace that surrounded me and the whole situation that just kind of let me know it was the right thing."
"And our third wedding anniversary this year." Nick told  Those years just kind of go by really quickly when you're having fun. That is true."
Holi Nostalgia: When Nick Jonas played Holi for the first time and Priyanka Chopra showed 'how it's done'
Last year, Nick Jonas celebrated his first Holi in India with his wife Priyanka Chopra by his side and it was a fun-filled, colourful affair.
The couple had a blast painting the town with various colours as they enjoyed their evening at Priyanka's close friend, Isha Ambani's Holi party. Apparently, Priyanka and Nick's Holi celebrations began early last year and were spread over days as the duo partied with their friends on different occasions. After Isha Ambani's Holi party, Priyanka and Nick celebrated the festival of colours with socialite Natasha Poonawalla too.
Pictures from Priyanka and Nick's Holi bash in 2020 created headlines as social media was filled with photos showcasing them splashing their painted faces and enjoying themselves thoroughly.
And since this year the celebrations are expected to be low-key, here's a look at some throwback photos from the couple's party last year that might just lift up your spirits. Take a look:
1. Priyanka Chopra and Nick Jonas' Holi photoshoot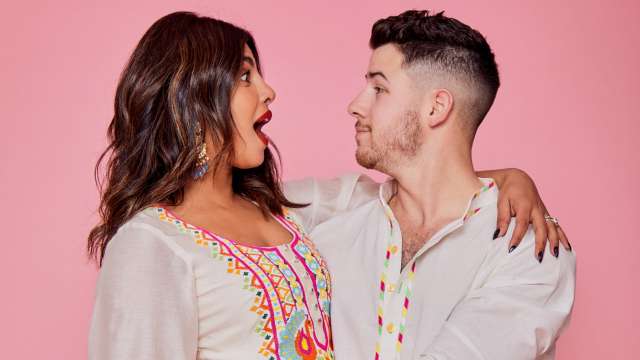 1/5
Priyanka Chopra and Nick Jonas's Holi photoshoot included some fun pictures wherein the couple was seen striking cute poses for the cameras. In fact, since it was Nick's first Holi, Priyanka's entire family had joined in for the celebrations and were part of their photoshoot as well. 
2. Priyanka Chopra and Nick Jonas attended Isha Ambani's Holi party in matching kurtas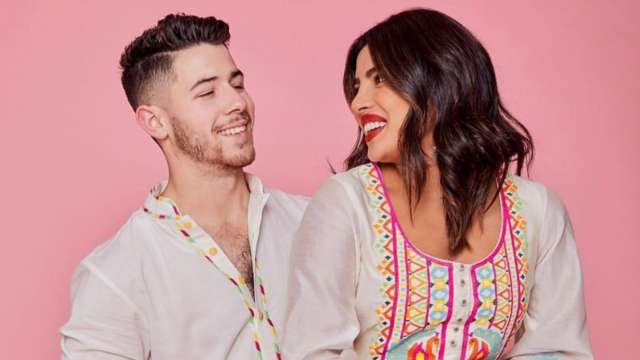 2/5
Last year, on March 6, Isha Ambani, hosted a lavish pre-Holi bash for her friends and family in Mumbai. The guest list included the crème de la crème of the Hindi film industry but the surprise appearance that stole the show was that of Priyanka Chopra and Nick Jonas. The couple arrived in coordinated Abu Jani-Sandeep Khosla outfits. Priyanka opted for a cream kurta showcasing colourful detailing while Nick accompanied her in a matching kurta that came with a colourful border.
3. Priyanka Chopra and Nick Jonas show how it's done!
3/5
Priyanka Chopra and Nick Jonas's 2020 Holi party was all about fun, love and mush. The couple posted colourful photos from the party drenched in festive fervour. "And that's how it's done! #Holi2020 @nickjonas," Priyanka had captioned the pictures. 
4. Nick Jonas celebrated his first Holi with wife Priyanka Chopra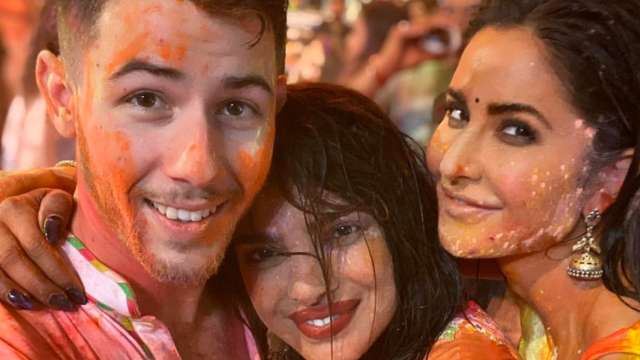 4/5
"My first Holi! (Five days early) So much fun celebrating with such incredible people here in my second home in India. #holi," Nick captioned the photos on Twitter that featured his wife Priyanka Chopra and Katrina Kaif. All three had their faces painted in various colours as they struck a pose for the shutterbugs. 
5. Priyanka Chopra-Nick Jonas's Holi 2020 was a fun-filled affair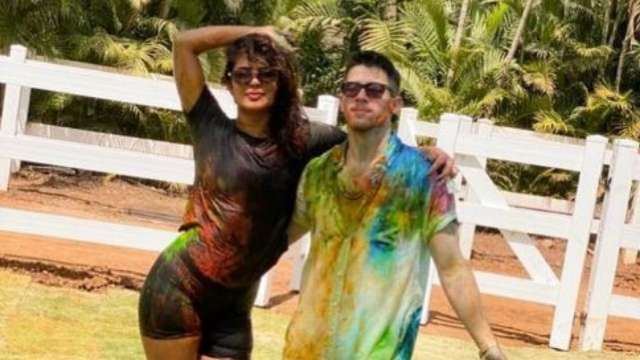 5/5
The throwback photo, from Priyanka Chopra and Nick Jonas' getaway in Pune during the Holi 2020 weekend, featured the duo, all covered in colours, posing like pros. Sharing the photo, Priyanka also wrote about Nick's first-ever Holi and captioned her post, "We have already been living in color over the past few days. Literally. Nick's first Holi was made so special being home. May everyone celebrating have a very happy and safe Holi." The duo was partying at socialite Natasha Poonawalla's Pune residence. Later, Priyanka took to Instagram to thanks Natasha and Adar Poonawalla for being the "best hosts".