Professional Bass Angler Gerald Swindle generated interest in bass fishing from the family members who are fishing enthusiasts; father Tommy Swindle and grandfather Guy Swindle were his biggest influencer for competitive fishing. His parents were very supportive of his interest while he was growing up, and his father would like to see him excel in fishing and hunting. "My mom and dad were huge supporters of what I was doing growing up. My dad didn't have a never-ending American Express. As a matter of fact, we didn't even have credit cards, but he was an addict of fishing and hunting. He liked to see me fish and hunt. He taught me the outdoors." After he got married, the number of his family supporters increased. "Once I met my wife, I would say my wife and my daughter have become two of my biggest fans to press me and challenge me to get better and become a better fisherman. So, my family, my mom, dad, wife, daughter have truly been some of my biggest supporters to this day."
---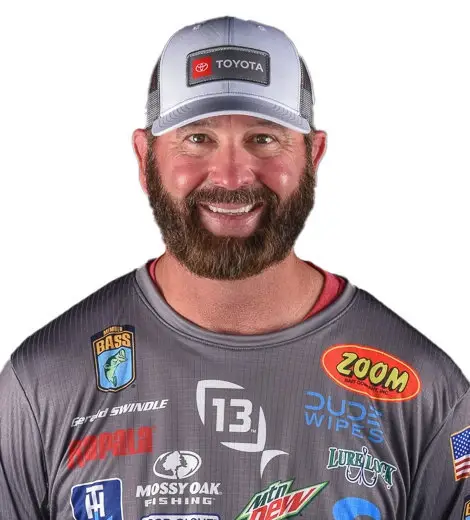 Quick Information
Full Name Gerald Swindle
Occupation Fishing Expert, Professional Bass Angler
Nationality American
Birthplace Jackson, Mississippi, U.S.
Birth Date Dec 17, 1969
Age 51 Years, 7 Months
Relationship Status Married
Gerald Swindle is an American professional bass angler.
Who is Gerald Swindler?
Gerald Swindle is a world-class bass angler who has won the 'Toyota Bassmaster Angler of the Year' award. In the year 2011, he became Bassmaster Southern Open Points Champion.
Inspired towards competitive fishing by his father, Swindler has participated in 292 professional events and has made 18 Bassmaster Classic appearances and 56 Top 10 finishes, according to Bassmaster (as of 24 June 2021).
In addition to being a famous bass angler, Swindler has also hosted Mossy Oak Go Web Series Break Down. He voyaged to a few popular rivers and lakes in the United States of America for the series. Similarly, Swindle is also one among five members of the Mountain Dew influencer team.
He also endorses various exclusive brands ranging from Toyota to Mossy Oak fishing and The Rod Glove. Swindle has also been sponsored by multiple finest brands such as Toyota and Mountain Dew.
Early Life and Education
Born on 17 December 1969 in Jackson, Mississippi, Swindle's family shifted to Alabama when he was nine. His father was a swimming and fishing enthusiast. During his childhood, he fished with his friends using his father's fishing reels along the riverbanks of the Locust Fork River.
He generated interest in bass fishing from the family members who are fishing enthusiasts; father Tommy Swindle and grandfather Guy Swindle were his biggest influencer for competitive fishing. His parents were very supportive of his interest while he was growing up, and his father would like to see him excel in fishing and hunting. "My mom and dad were huge supporters of what I was doing growing up. My dad didn't have a never-ending American Express. As a matter of fact, we didn't even have credit cards, but he was an addict of fishing and hunting. He liked to see me fish and hunt. He taught me the outdoors," he shared.
When Swindle was eight years old, he pulled out a big bass from a pond behind his house using a Zebco 33 and old Arbogast Mud Bug crankbait. The fish weighed approximately about 5 pounds.
As a teenager, he was a small, three-sport athlete at Locust Fork High. His football squad was little in number and size, and they were inept.
In 2008, Swindle lost his brother to pancreatic cancer. "We fished a lot together, especially in those evening jackpot derbies. I'd give anything to fish another evening with Tony."
Career
After Swindler finished his high school education, he started to work with his family members as a house framer. He would hammer the first nail before dawn and walk off the job tackling Alabama's scorching afternoon sun, hardly in time to reach a local jackpot tournament at the end of the day.
Jackpots were subject to higher entry fees and bigger money pots. Swindler figured out the economic struggles that came along with doing well in such tournaments. He didn't consider it as a regular profession.
In April 1998, Swindler became first and won the cash prize of $150,000 at the FLW event on Beaver Lake, Arkansas. He threw a spinnerbait along with the biggest blade he could hang at the back of it. This win launched his professional career that flourished following the Northwest Arkansas spring weekend.
In 2004 Swindle – often recognized as The G Man – achieved one of bass fighting's biggest accolades after he won 'Toyota Bassmaster Angler of the year' award. According to him, the 'Toyota Bassmaster Angler of the Year' award was his biggest accomplishment and most important trophy.
Bass Competition and Net Worth
Swindler has been fishing B.A.S.S competitions since 1995. In 2011, Swindle won the Bassmaster Southern Open at Lake Toho, Florida, and ultimately became the Bassmaster Southern Open Points Champion for 2011.
In the year 2016, he won the 'Toyota Bassmaster Angler of the year' award. The triumph made him the 11th professional bass angler in history to earn more than one title of Toyota Bassmaster Angler.
Swindle reflected his views towards winning the second title of Toyota Bassmaster to Lew's, a fishing gear company. "There are a couple things that stand out. First, I was just physically touching that trophy, and all the emotion tied to finally knowing it was mine". He also mentioned about the amount pressure he and his wife dealt with within that week of the tournament and how earnestly his wife prayed for him. He added, "There was definitely a serious feeling of relief when that week was finally over."
According to one of PRWeb's articles in 2019, he had competed in more than 330 professional-level events on the Fishing LeagueWorldwide (FLW), MLF Bass Pro Tour, and The Bassmaster Tournament Trails, as of 6 August 2019. The magazine also reported that he earned a fortune of more than $2.5 million during his career. According to Celebritynetworth, he estimated net worth is $8 million.
Bassmaster 2021
The 2021 Bassmaster tournament was hosted by the Sabine River Authority and Wood County Economic Development Commission. In total, Swindle earned $10,000 from the tournament.
The tournament encompassed one hundred top-notch bass anglers from all over the world against one another. The participants competed for the first prize of $100,000 and a total sum of more than $762,000.
Did you Know?
Gerald Swindle is married to LeAnn Swindle. The pair have a daughter Whitney Cheatham, who is a registered nurse.
To Mossoyak magazine in 2019, Swindle stated that his family members were his biggest supporters. "Once I met my wife, I would say my wife and my daughter have become two of my biggest fans to press me and challenge me to get better and become a better fisherman. So, my family, my mom, dad, wife, daughter have truly been some of my biggest supporters to this day," he shared.
He added: "Up until my brother, Tony, passed away, he was hands-down my biggest fan that ever sat in a bass boat with me or had ever been in the woods with me. He was the guy that thought if there was a bass in 10,000 acres of water, I could catch it. So, sometimes just having somebody believe in you that much is refreshing and it just gives you confidence."